As we transition back to in-person worship, we will continue to stream every service on Zoom. 
Some services will also be held in-person at the Community for Positive Aging.
See our Upcoming Worship page for details about how to join us.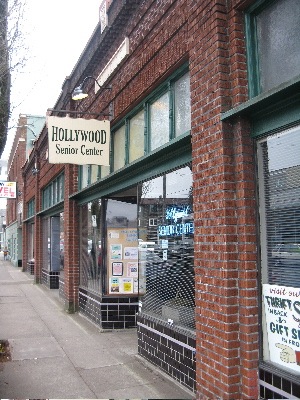 When: 10:30 AM  Sundays.
Where: Community for Positive Aging (formerly Hollywood Senior Center), 1820 NE 40th Ave.
Transit: Trimet bus #12 runs nearby, and just a few blocks away is the Hollywood Transit Center, where you can catch buses #75 and #77 and the MAX.
Parking: If you drive, there's plenty of street parking within a few blocks, and we also have permission to park for free at the US Bank parking lot at 41st and Hancock. Parking behind the Senior Center is pay only. Don't park in the lot across the street (you could get towed). 
Dress: The dress at Wy'east is casual. Wy'easters might show up in a dress or suit, or they might wear shorts and a tee-shirt. Many people wear jeans. Sit anywhere you like. There is no need for you to bring anything when you come.
Our greeters will welcome you at the door to the sanctuary. Please let us know you are visiting for the first time so we can learn your name and email you our monthly newsletter.
Children are welcome to stay with their parents, but after the first part of worship there are also excellent religious education classes.  Service animals are welcome at our worship services.
In our worship, we sing songs together, and read different texts that inspire us. We light candles and share great joys and sorrows, and meditate together in silence. Usually our minister or a guest speaker gives a sermon. After the worship service, we gather for coffee, treats, and conversation.
Please join our email list to receive news and updates about Sunday services, special events and social justice projects.  We look forward to connecting with you!