At Wy'east Unitarian Universalist Congregation, we seek to nurture the ethical and spiritual development of our children and youth so they can grow to be adults who respect themselves, others and the world that they live in. 
To keep our families safe Wy'east has moved to online religious education during the pandemic with three ways to connect:
Every Sunday after our Zoom service, the children are invited into their own secure breakout room for a child-centered social hour hosted by the director of religious education or a member of our congregation.
On the 1st and 3rd Sundays of every month, we hold a pre-service Family Worship from 9:30-10am. More structured than social hour, we light our chalice, check in on each other, and follow a bite-sized curriculum. Follow the service Zoom link to be connected.
              NOTE: Special September schedule due to the Labor Day holiday.  
              Virtual Family Worship will take place September 4th & 25th, 9:30-10am.
              In-Person Worship at the Center for Positive Aging (Sign-in Required) September 11th & 18th 
Wy'east has its own YouTube channel with videos featuring our director of religious education, our minister Craig Moro, and members of our congregation. You'll find mini lessons, craft ideas, and creative talents of our members on topics important to UUs and our seven principles. Videos are designed to be watched with your family as a jumping off point for further conversation.
We are looking forward to seeing our families in person in the future. Until then, stay healthy!
Once it is safe to do so, we will resume in-person services and religious education:
Every Sunday children attend the beginning of the worship service with their families. After the first fifteen minutes or so, we sing the children to their classes. Most children's religious education (R.E.) classes happen across the street at Rose Creative Pre-school. Kids love this bright, cheerful space filled with toys and play structures, where they look forward to free-time together at the end of their lessons. (Please note that N.E. 40th is not a busy street, and the children are only allowed to cross at the crosswalk, with their teachers.)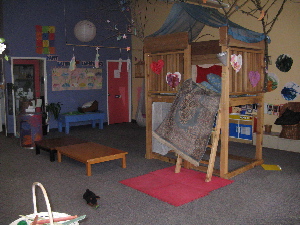 The Religious Education Committee, R.E. teachers, parents, and other Wy'east members work together to create a meaningful experience for our children and youth.
Parents and guardians are always welcome to join their children during R.E. classes until everyone is comfortable, or children can stay in the worship service with their parent(s). Nursery care is available for children under three for the entire worship service. Parents who keep their infants or other children with them during worship are welcome to use the classroom near the entrance for taking care of any of their child's needs. For those leaving their children at Rose Creative Pre-school, you can give the teacher or caregiver your cell phone number so they can buzz you if your child needs you during the service.