At Wy'East Unitarian Universalist Congregation, we seek to nurture the ethical and spiritual development of our children and youth so they can grow to be adults who respect themselves, others, and the world that they live in. 
Our children and youth are so important to the Wy'east community. Parents at Wy'east often talk about how wonderful it is to see the children grow up in a community that is small enough to know and appreciate each child.
Every Sunday, children attend the beginning of the worship service with their families. After the first fifteen minutes or so, we sing the children to their classes. Most children's religious education (R.E.) classes happen across the street at Wee Works Pre-school. Kids love this bright, cheerful space filled with toys and play structures, where they look forward to free-time together at the end of their lessons. (Please note that N.E. 40th is not a busy street, and the children are only allowed to cross at the crosswalk, with their teachers.)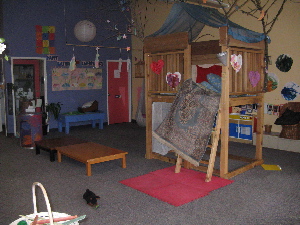 The Religious Education Committee, R.E. teachers, parents, and other Wy'east members work together to create a meaningful experience for our children and youth.
 Wy'east offers small classes for all age groups, from pre-school through high school. Using a variety of interactive lessons developed by educators - including children's worship time, stories, artwork and movement - children and youth learn about: Unitarian Universalist history and values (our seven Principles), world religions, moral decision-making, social justice, and spiritual practices. Many times throughout the year we have services where the children worship with us. Some of these services are: Flower Communion, Water Communion, Bread Sunday, Celebration of Light, and Christmas Eve.
Parents and guardians are always welcome to join their children during R.E. classes until everyone is comfortable, or children can stay in the worship service with their parent(s). Nursery care is available for children under three for the entire worship service. Parents who keep their infants or other children with them during worship are welcome to use the classroom near the entrance for taking care of any of their child's needs. For those leaving their children at Wee Works, you can give the teacher or caregiver your cell phone number so they can buzz you if your child needs you during the service.